Billie Jackson
Faced with the overbearing sister and mother team of Bianca and Carol, Billie learned to say 'yes' for the sake of an easy life, then go and do what he wanted behind his family's back.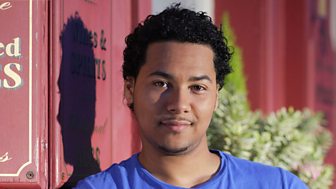 | Fact title | Fact data |
| --- | --- |
| First appearance: | 21st December 1993 |
| Last appearance: | 14th October 2010 (Deceased) |
| Occupation: | Army recruit |
Carol's tireless attempts to keep Billie on the straight-and-narrow proved self-defeating. Her constant nagging, and criticism broke his confidence, encouraging him to seek self-affirmation elsewhere. It was Carol's worst nightmare when he found it in a gang - his crew from Balham.
It's my life, mum!

Billie Jackson
Carol dragged him to Walford in the wake of Bradley's death, but his gang soon found him and he became tangled up in the non-fatal shooting of Jack Branning.
This was a turning point for Billie, who tried to go on the straight and narrow. He joined the army and ended his relationship with Whitney, who Carol had never approved of.
However, Billie tragically died of alcohol poisoning at his 22nd birthday party. Bianca found him next morning lying on the sofa. Carol has never gotten over his death.
Played by Devon Anderson