Tickets & FAQs
Information for ticket holders about attending BBC Radiio 1's Teen Awards 2012.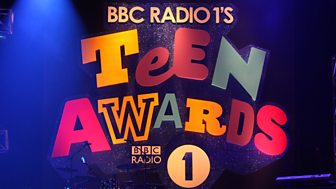 How can I get a ticket?
The Box Office for the BBC Radio 1 Teen Awards has closed … demand has been huge. All the tickets have now been allocated, so please do not try to call the venue or book tickets online.
If you don't manage to get tickets to this event, don't worry the event will be broadcast live on BBC Radio 1 or you can watch the entire event online, plus on Monday 8th October you can watch all of the highlights from the award show on BBC3.
How old do you have to be to attend?
This event is strictly for 14-17 year olds only. No Adults 18 years and over will be allowed entry. People who are considered by door stewards to look over or under the age restrictions may be required to produce photo ID (Photo Oyster Card, Passports etc). If the door stewards have any doubt regarding the legitimacy of the ID produced they will not admit that person to the Venue.
How many tickets can I get?
Tickets can only be obtained as a group of 2 or 4. Due to the young audience for this show we want to try to avoid any young people travelling unaccompanied alone to this show, so tickets will be available in groups of 2 or 4 only.
Ticket Delivery
Your tickets will be posted to you from Friday 28th September. They will be sent to the address you provided when you ordered your tickets by phone and we cannot change this address.
If you don't receive your tickets
If your tickets have not arrived by Wednesday 3rd October then please call the number that you originally booked your tickets on (either Ticketmaster on: 0844 815 0815 or the disabled line 020 8782 5629). You must contact us no later than 12 noon on Friday 5th October or we will be unable to assist.
Your tickets are personalised and traceable to you so if you don't receive them we will cancel them and arrange for you to collect replacements at the venue on the day. However you will need to provide photo ID and proof of residency at the registered address (provided when you made your telephone booking).
If your original tickets arrive after you have cancelled them, please destroy them – the barcode on them will not work and won't gain you entry into the event.
How secure is the system?
All tickets are printed with a unique barcode and a reference number that relates to the details of the person who booked the tickets. The barcode is scanned at the entrance to the event and tickets with invalid barcodes will be rejected. Tickets are fully traceable and we can cancel them at any time by invalidating the barcode. PLEASE DON'T RISK BUYING TICKETS OR OBTAINING THEM THROUGH UNOFFICIAL CHANNELS.
Valid tickets for BBC Radio 1's Teen Awards are free and there are no tickets on sale through any auction websites or outlets. Our barcode system also means that if tickets are stolen the original customer can ask for replacements which will invalidate the original barcodes. Therefore if you buy tickets you will have no way of knowing if the barcode is valid until you reach the entrance.
What time does the event start and finish?
Doors at Wembley Arena will open around 12 noon for ticket holders to enter the venue. The event will finish at around 5pm. Full details on times will be available here in the coming weeks.
Can I bring food and drink into the event?
No food or drink can be bought into the venue. The bar will be selling soft drinks and snacks only. There will be no alcohol sold at the venue.
Can I bring a camera?
Yes, but please be aware professional photography equipment is not allowed and we advise you to leave zoom lenses and other pieces of expensive equipment at home.
Valuables
Young persons attending the concert are responsible for their own valuables. The BBC will not be liable for any loss or damage to personal property brought to the venue.
Security
Additional security will be deployed around the local area post and prior to the event.
Security at the venue will be a split team of male and female SIA and CRB checked officers.
It is a condition of entry that the ticket holder consents to being searched. Searches will be conducted in the presence of two, same sex as ticket holder, CRB checked, S.I.A. officers.
Door staff will be conducting security checks upon entry.
Anyone believed to be under the influence of alcohol or an illegal substance will be refused entry, or asked to leave.
Should we have reason to refuse entry to any person, or ask an anyone to leave the Event we will advise our Designated Child Protection Officer for assistance.
We will take all reasonable steps to ensure that any such person will be supervised by the staff at the Venue until their parents/guardians are telephoned and arrive for collection.
BBC representatives will have a visible presence outside the venue, and around local transport links to advise and direct attendees to the show. The BBC representatives will also be present post event.
Venue staff
Venue staff will be CRB checked or will have controlled movement around the main area of the venue. This is to keep the event as a teen-zone only venue, and for the protection of all parties within main venue.
Information Point
There will be signposted information points at the venue for anyone with general queries on the show.
In the same area there will be a qualified welfare team to deal with anyone that has any issues that may arise in the venue.
Mobiles and Public telephones
We would advise all parent/guardians to equip their teenagers with fully charged mobile phones to arrange a safe collection. There will be telephones lines in the venue but are for emergency use only. In case of emergency teenagers should go to the Information Points or Welfare office situated inside the venue where an officer will assist.
In an emergency, any parent or guardians who need access to their child attending the show and cannot contact them via mobile phone you should go to Wembley Arena Box Office. Please note that this if for emergency use only.
First Aid
There will be a designated First Aid area at the venue with an appropriately qualified First Aider.