Sister Margaret Quayle
Margaret is an experienced, highly capable Sister but she's sacrificed a great deal for her career, and is still waiting for the recognition she feel she deserves.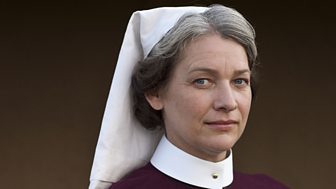 As a veteran of the Boer War with years of experience under her nursing belt, Sister Quayle expected to be promoted to Matron when the position became available. What she didn't expect was to be usurped by a younger nurse, and worst of all, for it to be Grace Carter her former protégé.
Margaret may seem incredibly proud and aloof but underneath there's a deep pain at having worked so hard for so long and to be passed over for promotion.
She has great admiration for Grace, but is she genuinely happy for her success or will she venture down a darker path to get what she wants?
Kerry Fox
Kerry came to prominence in Jane Campion's An Angel At My Table and was reunited with the director in the film Bright Star.
Kerry has had a prolific film, stage and television career with starring roles in Danny Boyle's Shallow Grave and Mr Wroe's Virgins as well as Welcome To Sarajevo, Intimacy, Fanny and Elvis, The Shooting of Thomas Hurndall, Vera, and Cloudstreet amongst many others.