Hope
Hope was raised in Australia by Scottish parents who emigrated soon after they adopted her.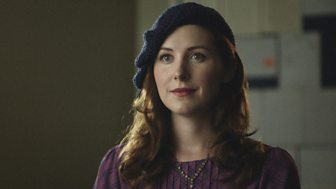 Bio
She knew she was adopted from a young age but it is only now that she is in her 20s and both her adoptive parents have died that she feels ready to search for them. She now lives in Edinburgh and works as a nurse, she has a sunny, positive disposition, is not weighed down by her past. She's carrying recent grief for her adoptive parents and has a strong desire wants to know who her birth parents are. Jackson cautions Hope that the truth may not be what she wants it to be but she is determined to know the truth whatever it may be.
Emma Hamilton
Emma Hamilton won her first professional role in HBO's World War II film Into the Storm (2012), produced by Ridley Scott, upon graduating drama school. She came to international attention for her role as a regular in the third and fourth seasons of Showtime's drama The Tudors, portraying the sharp-tongued Anne Stanhope (Anne Seymour). Notable films include the black comedy Whole Lotta Sole (2011) by Oscar-winning director Terry George, and the action thriller The Cold Light of Day (2012) where she starred alongside Bruce Willis and Henry Cavill.