Tom
Werewolf Tom has spent his life on a mission: to kill vampires.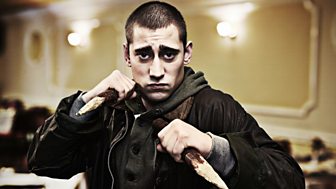 Tom moved into Honolulu Heights after his beloved father-figure McNair was killed. Putting his nomadic lifestyle behind him, and trying his best quash his vampire-killing instincts, Tom soon became an emotional rock for his housemates. Learning to live a normal life has its challenges, but Tom's charming innocence and noble loyalty stand him in good stead. In Series 5, Tom's ambition to be successful brings its own trials. Can he overcome them and beat the beast inside?
Michael Socha
Michael (born 13th December 1987) is an English actor from Derby with numerous film, television and theatre credits. Michael is well known for his role as Harvey in Shane Meadows' film This is England and the two subsequent television series, This is England 86 and 88.
In 2008, Michael starred in the BAFTA Scotland winning film Summer opposite Robert Carlyle. Other television credits include Paradox, Dominic Savage's Dive, The Unloved directed by Samantha Morton and ITV's Married, Single, Other.