Raymond Blanc
Raymond Blanc is a gastronomic icon, acknowledged as one of the finest chefs in the world. Yet his philosophy is endearingly simple: "My team and I aim to excel in what we do, but never to take ourselves too seriously."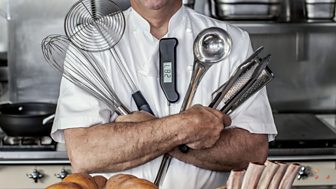 He is chef-patron and chairman of Le Manoir aux Quat'Saisons, the two-starred Michelin hotel-restaurant in the Oxfordshire village of Great Milton. His significant influence on British cuisine has brought scores of awards, as well as decades of critical praise and glowing admiration from fellow professionals and food lovers.
In July 2012 Raymond was appointed President of the Sustainable Restaurant Association. In the same year he became Culinary Director of Eurostar, creating menus for Premier Business passengers. In June 2013 he received the Legion d'Honneur, the highest French decoration.
Although he is self-taught, Raymond has trained some 30 chefs who have gone on to win Michelin stars. His burning passion for cooking - and eating - was inspired during his childhood in Besançon, France. In 1972 he came to Britain to work as a waiter at the Rose Revived in Oxfordshire. When the cook became ill, Raymond took over. From that moment he was a chef.
At the age of 28, Raymond opened his first restaurant, Les Quat'Saisons in Summertown, Oxford. Triumph swiftly followed. Soon he set up Maison Blanc, a patisserie-bakery: the start of a successful chain. Le Manoir aux Quat'Saisons opened in 1984; it was, he says, 'the fulfilment of a personal vision'.
Raymond is the only chef in Britain to have retained two Michelin stars for the past 32 years. He is a best-selling author and his BBC television series have included the Very Hungry Frenchman and Kitchen Secrets.