Johnny Vaughan
Johnny is a well-known television and radio presenter, best known for his work on The Big Breakfast and Capital Breakfast.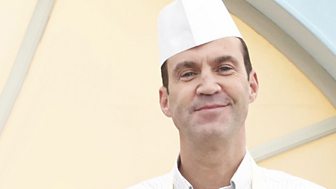 Johnny, 47 is married to costume designer Antonia Davis and has two children - Tabitha and Rafferty. Johnny is an avid supporter of Chelsea F.C and travelled to see Chelsea win the 1998 UEFA Cup Winners' Cup Final.
I learn best under pressure so this is the university of baking for me

Johnny
Johnny got his first break in television at 27 with Channel 4's movie review show, Moviewatch. In 1997, he was chosen to present The Big Breakfast alongside his former "TV Wife" Denise van Outen.
In 2004, Johnny replaced Chris Tarrant on the popular breakfast radio show – Capital Breakfast on 95.8, alongside Lisa Snowden.
During the London 2012 Olympics, he joined Absolute Radio to present the drive time show. Johnny is also the host of talkSport's Saturday early afternoon show 'The Warm Up with Johnny Vaughan'.
Baking Experience
Johnny is great at cooking, when he was 18 he was a grill chef, but he's not much of a baker.
LOVES cake and a big fan of a lemon drizzle.
Is good a puddings as they're more rustic looking bakes. His '5 apple apple crumble' is apparently brilliant and he's also mastered bread and butter pudding
The Bake Off
Johnny won't be practicing as he says he's much better at things on the first attempt so plans to go off the cuff.
 His previous efforts for Comic relief included spending 6.5 hours in bed with Keira Knightly. She was in a Chelsea kit at the time.
 Says he was an incredible sportsman when young but due to a dodgy knee has to be an armchair warrior these days. He says he's glad to hear baking is now a sport and hopes he'll get Olympic recognition for this!
 Johnny wants to wear a hat during the bake off as he'll be looking down a lot and doesn't want the viewers to be stuck with his bald head – not something he has to worry about in radio.