Alex McAllister
Ambitious, discreet and charming, Alex McAllister is Billy Kennedy's nephew and a slick businessman on his way to building a property business empire.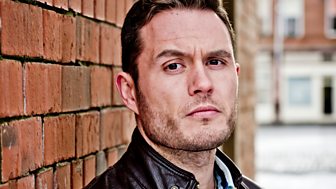 Alex arrived in Shieldinch to survey a potential property and it wasn't long before he clashed with his wayward uncle Billy and got on the wrong side of Lenny.
He likes to consider himself a principled man but Alex's façade started to crack thanks to a barbed business relationship with Councillor Frank Paton. Blinded by profit, Alex turned a blind eye to Paton's questionable business practices – against his better judgement.
In the past, Alex enjoyed the company of hired escorts to avoid the complications of dating. However, when he unwittingly hired Zinnie it stopped being convenient and his secret affairs were made public in court when his brother was jailed for raping Zinnie.
These days, Alex has found love with Kelly-Marie Adams and become a doting step-dad to her son, Callum. However, Lenny Murdoch was none-too-happy about Alex's closeness to his beloved grandson and relished throwing a spanner in the works, revealing Alex's involvement in the chromium cover-up to a shocked Kelly-Marie.
Worse still, when the regeneration project failed, Alex found himself in debt to Lenny. In order to pay off his debt, Alex has had to agree to run Lenny's club, Chrome. Lenny's increasing control over Alex's life led him to take decisive, but dangerous, action, turning police informant over the money laundering at Chrome. Talk about playing with fire.
Jordan Young
Jordan plays Alex McAllister in River City.
Joined River City - August 2013
From - Kettlebridge in Fife
Star sign - Capricorn
Loves - Butterscotch Angel Delight and my family
Hates - Celery and racism (not necessarily in that order)
TV Treats - Modern Family