Jodie Gold
Rich girl Jodie liked the finer things in life - she was mollycoddled by her mum and dad - but that didn't make her spoilt. She was kind, sympathetic with a heart of... well... check the surname.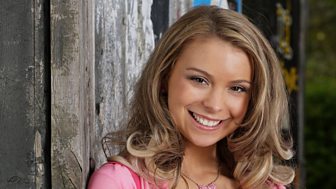 | Fact title | Fact data |
| --- | --- |
| First appearance: | 7th June 2010 |
| Last appearance: | 14th November 2011 |
| Occupation: | Beautician |
Jodie might have seemed a little dippy, but she knew how to get what she wanted. Within about half an hour on Albert Square she'd bagged herself a job in Booty and a date with Darren Miller.
Awww. You're so sweet.

Jodie Gold
And while she was off doing that, her mum Vanessa was buying her a new motor. That's got to be a Walford record...
Her extensive wardrobe and handbag collection diminished when her wealthy dad (who wasn't her dad) disowned her. And Darren ended up skimming money from the car lot to pay for the princess wedding that she dreamed of.
Jodie was not best pleased when she discovered this, or the fact that he'd slept with Lauren Branning. Though she wanted to go ahead with the wedding, he couldn't face the guilt and left Walford promising he'd make something of himself and become worthy of her.
But Walford wasn't the same for Jodie without her Darren. She left the Square in 2011, and her best mate Poppy, to find him.
Played by Kylie Babbington