Armenia
Representing Armenia are rock band Dorains with Lonely Planet.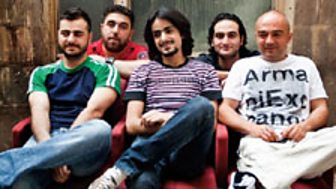 The UK has played a hand in Armenia's Eurovision entry this year, with cult rocker and Black Sabbath guitarist Tony Lommi penning the song Lonely Planet for rock act Dorians.
I'm really pleased how the song has turned out! Fingers crossed for May 16th!

Tony Lommi
Five-piece band Dorians are Gor Sujvan (lead vocals), Gagik Khodavirdi (lead guitar), Edgar Sahakyan (bass guitar), Arman Pahlevanyan (keyboards and Arman Jalayan (drums).
Frontman Gor, was heavily influenced by Led Zeppelin growing up, and it was while listening to their seminal hit Stairway To Heaven he forged an ambition to become a professional musician. Joining forces with buddies, Gagik, Arman, Edgar and Arman, creating the nattily entitled Gor and Friends, the band kicked-off their career performing Zeppelin cover songs. Before long the band started writing their own material in their native language.
Renaming themselves as Dorians the band achieved huge success with Yes Kulam which translates as 'I'm Crying' in Armenian. Their first studio album called Fly was released in 2011.