Jamelia
Singer and Television Presenter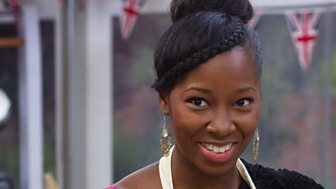 Jamelia, 32, is a popstar and TV presenter. She's released three studio albums, each reaching the top 40 chart in the UK. She lives with her 2 daughters Teja and Tiani.
I don't like being told what to do

Jamelia
Jamelia was signed to a record label straight out of school and began her professional music career at 18 with debut single 'So High'.
She's had seven UK top ten singles including 'Money', 'Thank You' and 'Superstar' (which reached no.1 in Australia and New Zealand).
She's presented TV documentaries Jamelia: Shame about Single Mums (2011) and Jamelia: Whose Hair Is It Anyway (2008) and had a few minor acting roles.
Most recently, Jamelia has been one of the coaches on the Irish version of singing talent show 'The Voice'. (It's rumoured she won't be returning for the next series). Her fellow coaches were Kian from Westlife, Sharon from The Corrs and Irish rock star Bressie.
Baking Experience
Jamelia loves baking, especially cakes. She says in a Jamaican household children start helping in the kitchen very early and so by 12 she could make a full meal.
She calls herself an instinctive and visual baker, "I must be a lucky cook, I don't measure much or follow recipes but it works". That said, her trick is to always weigh the eggs.
Calls herself quite an experimental baker as she'll adapt traditional bakes to suit her Caribbean background – such as her pineapple and coconut take on a Victoria sponge.
Bake Off
A big fan of the show, Jamelia has noticed it seems to be all about precision, which makes her very nervous; "precision is everything, but I'm not that kind of cook or baker".
Her daughters are obsessed with baking; they are the ones who told Jamelia she has to take part and the reason she's here. They usually watch the show as a family.
As a 'wing it' cook she hasn't been practicing for the Bake Off to her mum and daughters' dismay. They've been nagging her to work harder to show them up.