Arlene Fleming
From the age of five I memorised a poem a week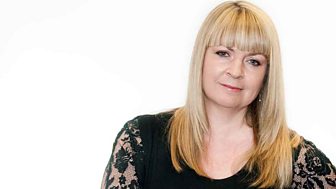 Was taught elocution and vocal technique.
Speech and drama quickly became my game
Drama school at seventeen was my aim.
From there I acted in many plays
Slapping my thigh with the panto dames!
But a number one tour of theatres in a year
Taught me this wasn't to be my career.
Living out a suitcase isn't for me -
I like to be at home for tea.
Reporting for AA Roadwatch was the start
Of my love affair with the broadcasting art.
BBC Radio Scotland and Television beckoned
Announcing in self op studios -
Timing every second.
From there to the 'Big Smoke' I successfully auditioned
Announcing for Channel 4 Television.
Then in the 90's freelancing for Radio 4
Before BBC TV knocked at my door.
On BBC1 & BBC2 you could hear my voice
Until the biological clock gave me no choice!
The babies arrived, my career break started
The BBC & I amicably parted.
In the Wilderness years I lost and found myself
Taught Art, Chi-kung and Alternative Health.
As the children get older I'm finding time to work
Being a Freelancer can have it's perks.
Now I've gently wedged my foot back in the door
May I say what a joy it is to be working 'again' for Radio 4.