Slovenia
Representing Slovenia is Tinkara Kovač with Round and Round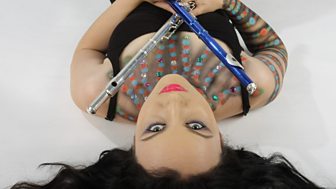 Musician and singer Tinkara is also a professional flautist. Her career began in 1997 after winning Most Promising Singer Award at the Potoroz Festival.
I made a big "yeah" scream and a second after I felt the girls and boys in my team jump over me

Tinkara on representing Slovenia
Since then, Tinkara has toured Europe and released nine albums. Her proficiency on the flute has seen her collaborate with Ian Anderson (Jetrho Tull) and Robert Plant (Led Zeppelin).
In January 2013 and under her own record label NAI, Tinkara released a special project with lullabies and musical bed-time stories in various dialects including Slovakian and Croatian.
She was elected the president of the Villenica Association in June, 2013 and awarded the Best Performance and the Main Prize respectively at the The Melodies of the Sea and the Sun Festival.