Dr Saleyha Ahsan
Saleyha is on the front line of medicine, working as an A&E doctor in a busy London hospital.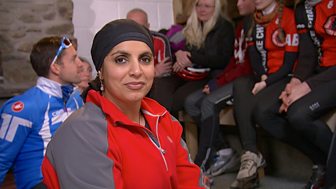 She's a former British Army Captain who served in Bosnia, has a Masters in International Human Rights and Humanitarian Law and works as a freelance filmmaker and medic, reporting on stories concerning healthcare in the UK and around the world. Recently she's reported on the conflict in Syria for Panorama and other media outlets and has written about the state of emergency medicine (A&E) in the NHS for the Guardian newspaper.
In Trust Me I'm a Doctor, Saleyha shares her A&E experience by giving us simple lifesaving tips, as she explains how to treat burns, bleeds and hypothermia. Saleyha also investigates if acupuncture is as effective as painkillers at treating lower back pain and she finds out if taking vitamin C stops you getting a cold.