Herbert Pocket
Pip first meets Herbert Pocket in the garden of Satis House, where he provokes young Pip into a fight.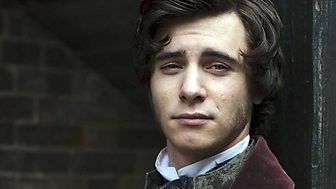 We will see this through together but see it through, we must.

Herbert Pocket
Years later they meet again in London. Herbert becomes Pip's true friend and loyal companion even in the darkest of times.
Harry Lloyd
Harry made his television debut at the age of 16 as James Steerforth in the BBC adaptation of David Copperfield. He played Will Scarlet in the first two seasons of BBC drama Robin Hood and Jeremy Baines, a student whose mind is taken over by a species of aliens called 'The Family of Blood', in Doctor Who.
Harry has also appeared in the HBO series Game of Thrones, as the young Denis Thatcher in The Iron Lady and in the recent film adaptation of Jane Eyre. Harry is the great-great-great-grandson of Charles Dickens.