Tillman
Tillman has used his free time to master a skill completely alien to the animal world in the blink of an evolutionary eye.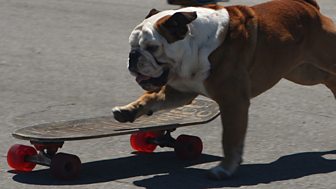 Tillman is a skateboarding legend, TV star and Guinness world record holder. In 2009 he became the world's fastest skateboarding canine, racing 100m in less than twenty seconds.
When he's not skating Tillman enjoys cooling off on his snowboard or surfing on the beaches around Los Angeles, California. His owner Ron Davis describes him as an "adrenaline junkie". He has not been taught to skateboard. "There's no treats involved it's just a passion that he has, and the faster he goes the happier he is".