Andrew Tindall answers your questions
Andrew left Young Apprentice with his head held high and Lord Sugar's business card in his hand – with no toilet paper trailing from his feet! Having recovered from his music festival experiences in the Semi Final, Andrew answered a selection of your questions and explained how the world is a dark place without Google…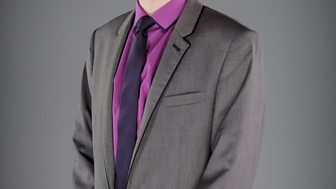 How was the experience overall? (from Rahul)
I loved the experience! Watching it back made me appreciate how much of a great opportunity I had (and it also made me miss everyone!). I have already been offered some amazing things from it and don't regret anything. Even the toilet paper gag... OK well maybe that one a little.
What was the most difficult task for you? (from Anna-Laura)
Week 3. My team didn't really want to be helpful, apart from Alice (bless her - gotta love Alice!); I didn't know London, and I had to lead people who saw the task as 'Tell Andrew he is immature every time you disagree with him'. We also had to learn how to use the Yellow Pages - I'm still not too sure how it works, the world without Google is a dark one. But we won, so we all loved it and all loved each other again! The hardest task but one of the most fun.
What's a candelabrum? (from Aengus)
One of those things my team bought.
Who do you prefer to watch over you during the tasks, Nick or Karren? (from Ryan)
I entered the process liking Nick. My Mum loved Nick. I liked Nick. My friends liked Nick. My Mum probably loved Nick some more. But getting to know them both, I really started to like Karren. She stands up to Lord Sugar and speaks up when she thinks you have done a good job (or a bad one). So I left liking Nick and Karren, possibly Karren a little more. So in answer to your question: Karren!
Would you buy a Washing Machine at a festival? (from Ben)
Ahh Ben... why WOULDN'T you buy a washing machine at a festival?! Never mind the music, get your socks washed.
Is there anything you regret saying in the boardroom? (from Jenny)
I don't regret saying anything in the boardroom. If anything I regret not speaking up enough.
Who do you think should win? (from Simon)
Ash. Ash is brilliant. From Week 1 she stood out. I think you could tell who would make it far within a couple weeks, but there were a few surprises!
What were your plans for the £25,000 had you won? (from William)
I planned to spend it partly on a gap year so I could do lots of work experience. And of course a few other things that I'll keep up my sleeve for now.
Well done on getting so far! What are your plans for the near future? (from Gavin)
Thank you Gavin, I need to complete my A-levels in science and maths. I am also trying to do lots of work and work experience. I am talking to some people.
What area of business do you want to end up in? (from James)
I loved marketing, design and branding. I can see myself doing that.