Sonny Ji
It was a decision between buying a guitar and a pair of Technics that set SONNYJi on his path as a DJ and presenter. Deciding on the latter, from the age of 17, Sonny spent most of his time holed up in his bedroom, practising the art of turntablism.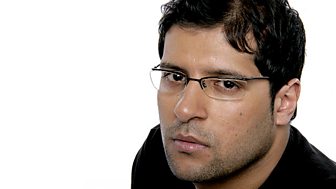 Growing up he listened to Bhangra and Bollywood, but developed a passion for House music in his teens. In 1999 he started a 6 year residency at Asian Underground club night SHAANTI. This is where he pioneered a sound known as Bhangra House. Bhangra sounds mixed live with House & Techno to creating something fresh. It's where he also DJ'd alongside the likes of Talvin Singh, Nitin Sawhney, Asian Dub Foundation & Robert Miles to name but a few.
Since then, Sonny Ji has DJ'd on stage at Glastonbury and at Godskitchen. In 2007 he joined BBC Asian Network on The Bhangra Mixtape where his trademark creatively looped sound continues to blow fresh air at the Asian music scene.
The radio show has been a success with all camps due to its huge crossover appeal. Bhangra mixed live with beats from the cross genre spectrum makes this the only show of it's kind on any network, going out to a UK and worldwide audience.