Ghost Town
Post-industrial malaise reaches number one!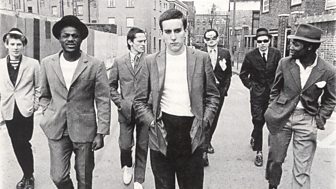 | Fact title | Fact data |
| --- | --- |
| Release date: | 12th June 1981 |
| Written by: | Jerry Dammers |
| First recorded by: | The Specials |
Synopsis
Punk was a short-lived musical phenomenon (if you discount all the bands that claim to have kept its spirit alive since 1978) quickly outgrowing its three-chord strictures and beautifully morphing into a host of other new genres and sub-genres. One of these emerged from the West Midlands, taking an anti-establishment attitude and melding it with multi-ethnicity, sharp suits (with attendant pork pie hats) and the rocksteady beats of ska (a precursor to reggae) to produce 2-Tone.
Why must youth fight against themselves? Government leaving youth on the shelf

Ghost Town
Like many of the acts featured on The People's Songs, The Specials – the band who masterminded this ska revival – were heavily politicised: their material addressing the weighty topics of the time that were affecting Britain's youth. Teenage pregnancy ('Too Much Too Young'), inner city violence and racism ('Why') and urban deprivation ('Concrete Jungle') all made appearances along with some deeply catchy singles. Yet none encapsulated the sense of seemingly endless decline that gripped the country at the end of the '70s like 'Ghost Town'.
By 1981 Margaret Thatcher's divisive Tory government had been in power for two years. The previous summer had seen rioting in Brixton and Bristol. By '81 the rioting had spread to 35 locations across the nation, and when bandleader and keyboardist Jerry Dammers saw elderly women selling their possessions on the Glasgow streets he knew that "something was very, very wrong". After 10 days in a small studio in Leamington Spa 'Ghost Town' was born.
Filled with eerie diminished chords and ghostly wailing the song merely hints at the full political turmoil that was polarising the UK at the time, but mere mentions of night clubs closing down and 'no jobs to be found in this country' instantly connected to young people, not just from Coventry but across the whole nation. Has a grimmer ode to post-industrial decay ever reached number one?
'Ghost Town' proved to be the band's last massive hit, but in their hometown of Coventry it won them a fair amount of ill feeling for writing off the once bustling hub of a motor industry as a town in terminal decline.
There aren't many, but we've unearthed a few variations on 'Ghost Town'