Nathan Amzi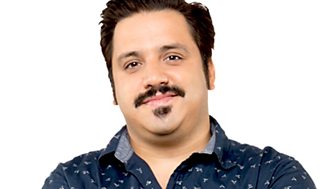 | Fact title | Fact data |
| --- | --- |
| Age | 30 |
| Hometown | Manchester |
| Favourite Voices | Meatloaf, Bon Jovi, Bruce Springsteen & Elvis |
"I have just finished performing the West End hit 'Rock of Ages'. I enjoy being in musicals but I almost feel like I'm getting too old for it. Singing is my first love and I want to be a recording artist before it's too late.
The Voice could change my life in so many ways

Nathan
Not only that, I'm doing this for my mum as well. My mum has motivated me to audition for the show because she loves The Voice. We're very close and I've always wanted to make her proud.
I know I don't look like the average pop star. I'm used to being judged on my appearance so it will be refreshing that the coaches will only be looking out for one thing and that's my voice.
The Voice could change my life in so many ways, there's a lot at stake for me. Not only could I become a recording artist, but my dreams and hard work over the years may come true too"
DO YOU HAVE ANY BAD HABITS?
Not that I know of
WHAT'S THE BEST THING YOU'VE EVER DONE?
Working at Shakespeare's Globe in 'The Merry Wives of Windsor' big family feel
ANY PHOBIAS?
Nah!!
WHAT'S YOUR MOST EMBARRASSING MOMENT?
I was on stage once and my jeans ripped pretty badly! The audience got an eyeful…!
DESCRIBE YOUR PERSONALITY IN 3 WORDS
Giving, happy, funny…. looking