Shenice Quinn
Shenice is a good kid with a cheeky streak. All she wants is to feel loved and safe…and be able to stay in one place for any one time!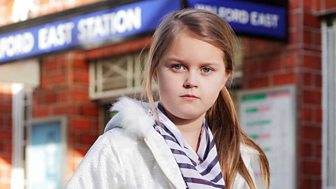 | Fact title | Fact data |
| --- | --- |
| First appearance: | 28 February 2011 |
| Last appearance: | 23rd July 2012 |
| Occupation: | Student |
Cheeky youngster Shenice is the daughter of Martina Quinn, one of Kat's old friends from Spain. Shenice didn't have the best start in life, often neglected by her Mum due to her party loving ways, and Kat and Alfie eventually decided that Shenice would be better off living with them.
Can Tiff come out to play?

Shenice Quinn
When Jean was going through a tough time, having being questioned for benefit fraud, she became convinced that Shenice was an angel sent from her daughter Stacey, and things got a bit weird when Jean decided to take poor Shenice ice skating in her pyjamas! Shenice managed to escape and ran back to The Vic to alert Kat and Alfie. Jean's mental health improved, and although Shenice was wary of her for a time, she eventually allowed Jean to become her honorary grandma.
While they didn't hit it off at first, Shenice and Tiffany Butcher soon became best friends, and Shenice was distraught when Tiffany moved away to Suffolk… but their friendship remained strong, if long distance.
Shenice has now returned to Spain to be with her mum.
Played by Lily Harvey
Find out more about Shenice's Walford connections and play quizzes and games in our family tree.