Dara O Briain
Dara has been the presenter of Mock the Week since it began in 2005.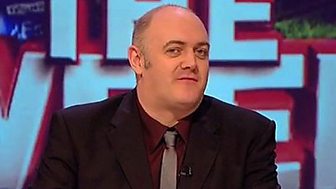 Born in County Wicklow in Ireland, Dara studied Mathematics and Theoretical Physics at University College, Dublin. He performed his first stand-up gigs on the Irish comedy circuit, before breaking into television as a children's presenter on RTÉ.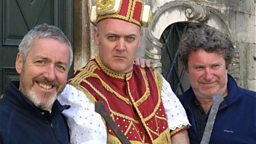 After working the Irish stand-up circuit and appearing at the Edinburgh Fringe, Dara's television career continued apace; in Ireland he became the host of topical panel show The Panel and in the UK he appeared on BBC Two's Live Floor Show and has guest hosted Have I Got News for You. He became the first - and only - host of Mock the Week in 2005.
Away from Mock the Week, Dara presents The Apprentice: You're Fired, and with fellow comedians Rory McGrath and Griff Rhys Jones he travelled up the Thames for BBC Two's Three Men in a Boat. Further series have taken the three to Scotland, Venice, Ireland and New England in a variety of sea-faring craft.
Still loyal to his first loves, mathematics and physics, Dara has co-hosted several series of Stargazing LIVE alongside Professor Brian Cox, and fronted Dara O'Briain's Science Club on BBC Two and Dara O Briain: School of Hard Sums on Dave.
A legend on the stand-up circuit, Dara sold out his entire Edinburgh run four years on the trot to become the biggest-selling solo stand-up on the Fringe.
In between recording episodes of Mock the Week, Dara toured the UK and Ireland in 2012 with Craic Dealer.