Louise Elliott
Louise tells us about herself ...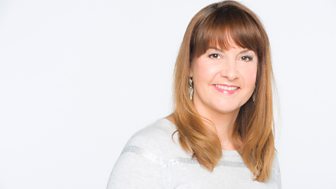 At Home
I'm mum to Harriet and Elizabeth, and step-mum to Georgia.
We have a pet dog, called Romeo. He's a West Highland Terrier - not named after the tragic Shakespearian lover, but after David Beckham's second son (my daughter's choice - not mine!)
We've also adopted a tiger, called Phet, - but she doesn't live with us.I love moving house and renovating homes - we've done up 3 houses in the last 8 years.
We grow our own vegetables and I love gardening.
As the daughter of a retired professional footballer, I have had no choice in life but to love footy. I saw my first game when I was six weeks old and my last one last week! Generally though, I'm a big sports fan.
I was brought up in Llandegfan, Anglesey, overlooking the Menai Strait and Snowdonia. As a kid I had two (now famous!) neighbours - Aled Jones and Matthew Maynard. I went to Ysgol y Borth and Ysgol David Hughes, Menai Bridge.
My childhood was spent outdoors, exploring - on foot, by boat and on horseback!
My favourite holiday destination is the south of France and I've been trying to learn French with Harriet at evening classes - but I confess, she's progressing much faster than I am!
I love cooking and having friends over (not sure they share my enthusiasm for the food though...!)
My favourite place on earth is the Ogwen Valley in Snowdonia.
At Work
Awarded Consumer Journalist of the Year 2006, I worked as presenter of BBC Wales TV programme X-Ray for almost three years.
I've a strong journalistic background, having worked on news and current affairs assignments both at home and abroad.
I've worked as a BBC network news correspondent in London, where I reported for Radio 4's Today programme, Breakfast, Radio 4's PM programme, News 24 and for Radio 5 Live.
During my time at network news, I reported live on a wide range of stories. The most interesting for me included the foot and mouth crisis, the Budget and Ellen MacArthur's triumphant homecoming to Southampton after her world-record-breaking voyage!
I also reported for BBC Wales Today for two years. As North Wales correspondent, much of my work was outside, up mountains, in forests, on rivers or out at sea - whatever the weather! (I even climbed halfway up Snowdon to get an interview with Sir Anthony Hopkins. It was well worth it!) I later worked as BBC Wales Education Correspondent.
I've also presented BBC Wales' investigative current affairs series, Week In Week Out.
My career in journalism began straight after my A-levels, when I started work as a cub reporter in Bangor. After completing a four-year apprenticeship, I went on to work in regional newspapers in Wrexham, Colwyn Bay, Preston, Manchester and Liverpool for ten years. My roles included education correspondent, health correspondent and news editor.
Back in 1993, my reports from Bosnia, in the aftermath of the Mostar massacre, won me the title of Young Journalist of the Year. (I qualified as "young" back then!)