Robbie Shepherd
Robbie Shepherd presents Take the Floor for BBC Radio Scotland.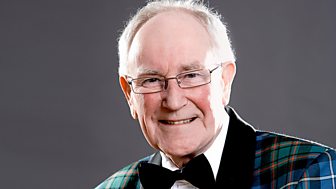 Robbie Shepherd has been presenting Take the Floor for BBC Radio Scotland since the early 1980's.
He was honoured by HM Queen Elizabeth II in the New Years Honours List 2001 - being awarded the MBE for his services to Scottish Dance Music and Culture.
Robbie is also an acknowledged expert in his beloved Doric language and for this was awarded the M.Univ (Master of the University) by Aberdeen University for services to Scottish culture and the North East in particular, in the same year.
In 1992, Robbie received an award from National Association of Accordion and Fiddle Clubs for services to Scottish Music, in addition to recognition from Royal Scottish Country Dance Society in 1998 for outstanding service and loyalty to the Society.
Robbie is no stranger to the Highland Games scene as he has been commentating on the Grampian Games circuit for over 40 years including the most famous Braemar Gathering which is attended by The Queen and members of the Royal Family.
Robbie is also in great demand as a concert compere and was for many years compere of the Scottish Fiddle Orchestra concerts travelling the length and breadth of the country including the London Albert Hall.
In 2006 Robbie received the Hamish Henderson Award for services to traditional music in the Hands Up For Trad Awards