Andrew Flintoff
Former England and Lancashire player Andrew (Freddie) Flintoff made his biggest impact on the England cricket team in the summer of 2005, when he played a major role in regaining the Ashes from Australia.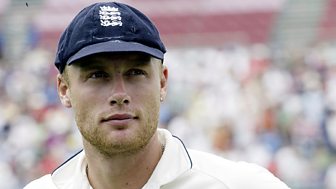 His contributions were legendary, and won him the BBC Sports Personality of the Year award.
In September 2010, with his status as one of the biggest players in the game, he retired from cricket due to a recurring knee injury.
Since retiring from cricket Andrew has developed a strong, credible career in broadcasting.
He presented his own radio show throughout the summer of 2011 for Radio 5 live entitled 'Freddie's World of Sport' and has been looking back on Ashes series in Flintoff's Ashes Legends. He will host Flintoff's Ashes Roadshow ahead of each Test match in summer 2013.