Charlie Thomas
Charlie is bright, determined and passionate...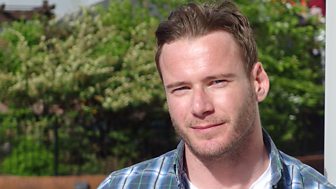 | Fact title | Fact data |
| --- | --- |
| Played by: | Felix Scott |
| Occupation: | Farm manager/troubleshooter |
...passionate about cutting-edge agriculture, that is.
He's employed by Damara Capital to get the very best out of the farming operations that they take over. When Damara gained control of Borchester Land in 2014, this shone the spotlight on their contractors: Home Farm.
Charlie isn't afraid to deliver tough messages, as Adam Macy quickly discovered. But he does so with some charm.
Timeliness, that's the key

Charlie Thomas
Likes - Maximising profit
Dislikes - Slackness
Immediate family
Rebecca (Sister) - not girlfriend, as everone assumed at the Hunt Ball
Key relationships
Justin Elliott (Boss) - head of Damara Capital
Adam Macy - (Former supplier) - but Charlie wants Adam in other than business ways...
Felix Scott
Felix is a busy actor, particularly on television. He has credits from Holby City to Wolf Hall and appeared as regular character Jason Doyle in two series of Missing.
He played businessman Philip de Vos in the feature film Inception, with Leonardo di Caprio.