Matt Williams
Matt Williams provides the sports news on Simon Mayo's Drivetime, weekdays, 5-7pm, as well as The Friday Fixture and his Middle-Aged Midweek Mosh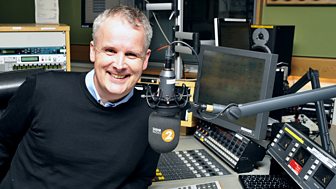 Born in 1971 in Southport, Matt grew up in Formby just outside Liverpool. He was educated at Holy Family High School in Thornton and then went to Bradford University to study French and Spanish.
Matt started at BBC Radio Cumbria as a reporter. In 1994 he became the breakfast producer where his 'high point' was being sworn at by then Carlisle United chairman Michael Knighton live on air.
He joined BBC Radio 1 Newsbeat in 1999 and got the only broadcast interviews with Sir Alex Ferguson and David Beckham during Manchester United's World Club championship games in Rio.
He started working on BBC Radio 5 live sport in 2001 and worked on Breakfast from 2003 to 2008, before moving to 5 live's Drive, then to Drivetime on Radio 2.
Before broadcasting Matt worked as an English and sport teacher in Spain. But he says one of his best ever summer jobs was working at Southport Pleasure Beach as a caller for the Arabian Derby!