More about Jason
Jason hosts the late morning show on BBC Radio Wales, from 9 AM each weekday.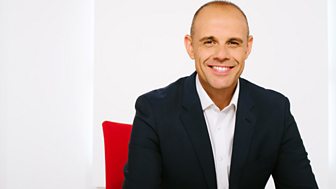 For many years Jason was one of the presenters of Wales Today, Wales On Saturday, and the Scrum V Six Nations specials. As well as bringing you the latest news, views and special guests on his weekday show at 10 AM, Jason's also the new host of BBC One's Final Score on Saturdays.
Jason's been a regular on BBC Radio Wales for several years. Until September 2012 you will have heard Jason holding court on the weekday Radio Wales Phone In, before taking up residence as our mid morning host.
Cardiff born and bred, Jason moved onto Swansea University to study Welsh and politics. He then went back to Cardiff for the postgraduate diploma in broadcast journalism at the capital's university.
Jason joined BBC Wales in 1997 and has been reporting and presenting ever since. He's worked in North Wales as a reporter for Wales Today, has filmed and presented a series of items from South Africa, and was a regular presenter on Wales Today for several years.
One of Jason's great interests is sport. For BBC Wales he's presented coverage from the Melbourne Commonwealth Games, the Ryder Cup and numerous FA cup finals, and he also presented the career-defining fight between Joe Calzaghe and Bernard Hopkins in Las Vegas, for BBC Wales and the main BBC network. Jason was trackside interviewing many of the world's biggest names in athletics during the London 2012 Olympic Games, and is also part of the regular BBC One presenting line-up for the rugby Six Nations.
On Radio Wales Jason built up a regular following as host of the Extra Time Phone-In, going on to be one of the captains in early series of the spin-off sports entertainment quiz Extra Time, along with Owen Money.
As a fluent Welsh speaker, Jason also makes regular appearances on BBC Radio Cymru.
Jason has presented Children in Need and has even made guest appearances on Doctor Who. "So many people ask me about my roles in Doctor Who. I starred in "The Christmas Invasion" and "Voyage of the Damned", and of course, most ask if I met Kylie on the set of Voyage! Sadly not, but to have been asked to play the role of the newsreader in these BBC Wales productions was simply out of this world. I get fan mail from all over the world - the best one was from a guy in New Zealand who said he thought I played the role of a newsreader so well that he thought I was a real newscaster!"