Elaine Paige
Hear Elaine, Sundays 1-3pm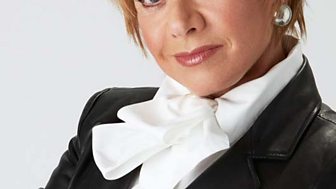 Elaine Paige, actress, singer, producer, has made such a major contribution to the stage musical that her title as undisputed First Lady of British Musical Theatre remains unchallenged.
Her West End debut, 'Hair' (Shaftesbury Theatre), was followed by 'Jesus Christ Superstar' (Palace Theatre), 'Grease' (New London Theatre) and 'Billy' with Michael Crawford (Theatre Royal, Drury Lane) before being chosen by producer Hal Prince to create the role of the Eva Peron in 'Evita' (1978), the ground breaking Lloyd Webber/Rice musical that was to break box office records and garner numerous awards. Elaine's roof raising performance as the iconic Eva won her the Society of West End Theatre Award for Best Actress in a Musical and the Variety Club Award for Showbusiness Personality of the Year and set a spectacular new standard for the future of musical theatre performance.
The opening of 'Cats' in 1981 led to Elaine's rendition of the classic song 'Memory' becoming one of her many hit records. (In 1998 she reprised her role of Grizabella for the TV film and video, which went straight to the top of the video charts).
In 1983 Elaine starred in 'Abbacadabra' written by Abba's Bjorn Ulvaeus and Benny Andersson she sang their work on stage again in 1986 in the Ulvaeus/Andersson/Rice musical, 'Chess' for which she was nominated for the Olivier Award for Outstanding Performance of the Year by an Actress in a Musical. The duet, 'I Know Him So Well', sung with Barbara Dickson, was No. 1 in the British charts for four weeks, and remains the biggest selling record by a female duo in the Guinness Book of Records.
Elaine has recorded 14 solo albums and earned eight consecutive gold and four multi-platinum albums. In 1985 her albums 'Stages' and 'Cinema' rejoined 'Chess' in the UK top 40 giving her three simultaneous hit albums to complement her number one single. In the same year she recorded the very successful 'Love Hurts' album following it with the 'Queen' album, the contemporary 'Love Can Do That' produced by Dennis Lambert and the contrasting 'Romance And The Stage' produced by Peter Matz. Elaine has performed in concert in Europe, the Middle East, New Zealand and in four major UK tours, Chess in Concert – the European Tour and with Tim Rice and Friends in Australia, New Zealand and the Far East. In 1997 she opened the prestigious Boston Pops season, which was televised by WGBH, USA.
In 1989 she starred in and co-produced the smash hit Lincoln Center New York production of 'Anything Goes' in London's West End directed by Jerry Zaks. She was subsequently nominated for an Olivier Award for Outstanding Performance of the Year by an Actress in a Musical. In 1993 she received critical acclaim for her performance as Edith Piaf in 'Piaf', the musical play by Pam Gems which also led to a nomination for an Olivier Award for Best Actress in a Musical and an album of Piaf songs.
In 1996 Elaine made her Broadway debut in the role of Norma Desmond in 'Sunset Boulevard' at the Minskoff Theatre. She joined the company following her outstanding performance as Norma in London, which gained the Variety Club of Great Britain Award for Best Actress of the Year and a nomination for an Olivier Award for Best Actress in a Musical. In 1994 the British Academy of Songwriters, Composers and Authors awarded Elaine with their Gold Badge of Merit in 1996 she was honoured with a Lifetime Achievement Award from HMV and in 1999 received a Lifetime Achievement Award from The National Operatic and Dramatic Association. In 1995 Ms Paige was awarded the OBE for services to musical theatre.