Evan Davis
Evan Davis joined the presenter team on Today in April 2008 following a six-and-a-half year stint as the BBC's economics editor.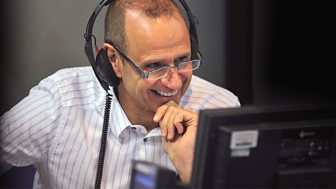 He also presents The Bottom Line, Radio 4's business discussion programme and Dragons' Den, the BBC Two business reality show.
Before his promotion to editor, Evan worked for BBC Two's Newsnight from 1997 to 2001 and as a general economics correspondent from 1993.
He previously worked as an economist at the Institute of Fiscal Studies and the London Business School.
Evan has won several awards, including the Work Foundation's Broadcast Journalist of the Year award in 1998, 2001 and 2003, and the Harold Wincott Business Broadcaster of the Year award in 2001 and 2005.
He has written and co-written several books, most notably Public Spending, and the Penguin dictionaries of economics and of business.
He studied philosophy, politics and economics at St John's College, Oxford from 1981 to 1984 and obtained a Masters of Public Administration at the Kennedy School of Government at Harvard University.