Nelson
(Urban fox; vulpus metrosexualus)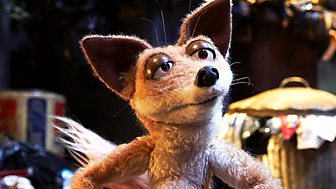 The only wild fox in East London with subscriptions to all the major broadsheets (excluding The Sunday Times), Nelson is, as he never tires of introducing himself at dinner parties... "An urbane fox!"
"Ha-ha-ha. Ah, ruddy classic! No come on now, if we can just be serious for a minute…"
He's also our hero. Because while being a fan of everything Ben Elton has ever done "post-Blackadder" and buying high-end gluten-free French chutneys from a carbon-neutral importer on the Kings Road are valid lifestyle choices if you're a human… less so when you're a fox.
And so, in just being himself Nelson is blazing a trail, he's kicking down social barriers. He is, in short, Rosa Parks with National Trust membership.
He also fancies Destiny. And yes, he's also aware that unspoken love is a sitcom cliché.