Georgia
Representing Georgia are The Shin with Three Minutes to Earth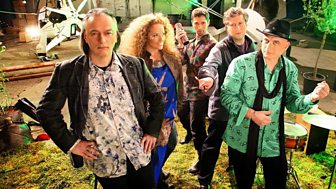 The Shin are a German-based band that became famous for interweaving traditional Georgian music with influences from pop and world music. For the 2014 Eurovision Song Contest, they are joined by vocalist Mariko Ebralidze.
Three Minutes To Earth describes the last three minutes of a long walk back to Earth, back home

The Shin
Mariko was born in 1984 in Tbilisi, and until 2013, has performed at several well-known festivals in Georgia, Azerbaijan, and Germany. In 2002 Mamuka Gaganidze was invited to join The Shin, which had been founded by members Zaza Miminoshvili and Zurab Gagnidze. Mamuka contributes to The Shin as a vocalist, percussionist and composer, and has played a vital creative role in all of the ensemble's projects to date.