Get Involved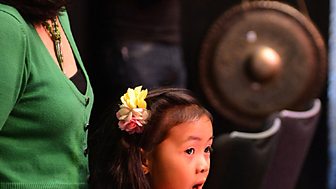 CLICK HERE FOR FULL LIST OF EVENTS AND WORKSHOPS
The BBC Symphony Orchestra, BBC Concert Orchestra and BBC Singers are three of the BBC's nationwide network of performing groups based in London.
Our learning programme is committed to adventurous and innovative education work with three core strands of work; introducing new audiences, creative projects, and nurturing talent. We work with schools, families, students and amateur musicians of all ages. Everyone is welcome to take part so keep an eye out for events coming up in your area!
The best way to make sure that you're the first to know about projects is by signing up to the Get Involved Newsletter
Come and Sing
A series of singing workshops led by the BBC Singers.
'An Absolutely wonderful experience, renewed my passion for singing' Come and Sing participant
Family Orchestra and Chorus
Budding musicians can join the BBC Concert Orchestra and BBC Symphony Orchestra in an ensemble for all ages 7 upwards. It's a great way to enjoy playing music together as a family and you don't need to be able to read music. Each orchestra and chorus is led by our team of BBC musicians who will help you explore the music in a fresh and exciting way. In October join members of the BBC Concert Orchestra in a Family Orchestra event taking inspiration from the music of Terry Riley and with the chance to perform at Southbank Centre. In May join members of the BBC Symphony Orchestra for a Family Orchestra leading to a performance at the Barbican.
Total Immersion
The BBC SO Total Immersion Days are mini-festivals of events, concerts and pop-up performances around the Barbican, exploring the music of John Tavener and Percussion.
Sign up for a BBC Singers and BBC SO John Tavener Learning project, culminating in a performance on the Barbican Free Stage on 5 October. On 31 January, we celebrate the world of percussion.
Pre-concert Talks and Study Afternoons
Many concerts are preceded by a free pre-concert talk, which is an ideal way of finding out more about the music that you will hear in the concert. The talks are given by a range of guest speakers.
Pre-concert talks and Study Afternoons are free to ticket-holders for the evening concert. Please note, however, that capacity is limited, so please arrive early to avoid disappointment.