A Whiter Shade of Pale
Britain's first psychedelic number one!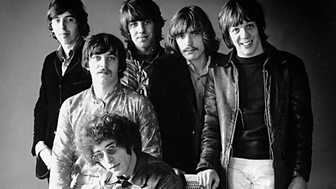 | Fact title | Fact data |
| --- | --- |
| Release date: | 12th May 1967 |
| Written by: | Gary Brooker, Keith Reid, Matthew Fisher |
| First recorded by: | Procol Harum |
| Also recorded by: | King Curtis, Percy Sledge, The Dells, Annie Lennox, Mantovani, James Last, Willie Nelson, The Everly Brothers, Bonnie Tyler, Dennis Brown, The Shadows, Justin Hayward, Noel Harrison |
Synopsis
We skipped the light fandango. Turned cartwheels 'cross the floor

A Whiter Shade of Pale
John Lennon and Jimi Hendrix were both fascinated by it. It was the song of the Summer of Love. It has been covered by, among others, James Last, Willie Nelson and the Everly Brothers. It went on to sell untold millions - yet it was recorded while the producer was in the toilet! It is 'A Whiter Shade Of Pale' - and to this day, no one is entirely clear what it's actually about.

Steeped in mystery and ambiguity, 'A Whiter Shade Of Pale' was perfectly in keeping with the kaleidoscopic year of 1967. Lyricist Keith Reid overheard the title at a party in 1966 and decided to write a song based around it. He sent the finished lyrics to Gary Brooker in Southend. Brooker, formerly pianist with R&B band The Paramounts, half remembered Jacques Loussier's television ad for Hamlet cigars and, within "a few minutes", had fashioned the melody that would haunt the world.

Gary Booker remembers: "We took the demo round to quite a few people… George Martin, Ron Richards, Andrew Loog Oldham and for whatever reason none of them saw any light in it whatsoever.."

Like some extravagant Ben & Jerry recipe, this classic combines three very different tastes. First take oodles of Bach-inspired organ. Then stir in a great dollop of haunting Dylanesque imagery. Third key ingredient is the R&B styling of the lead vocal - "And so it wa-as a bit later" (peaking on a high soulful sixth), echoing Percy Sledge's "When a ma-an loves a woman", released six months earlier.

Brooker and Reid now had the song, but no band. Within weeks Procol Harum had been formed - and, for the remainder of their lives, they would be overshadowed by that song. Like Orson Welles and Citizen Kane, it seemed to many that Procol Harum had started at the top, and worked their way down.

In truth, the band went on to record a dozen more albums, boasting songs every bit as good as their debut ('Broken Barricades', 'A Salty Dog', 'Grand Hotel'…) But despite their best efforts, it is 'A Whiter Shade Of Pale' for which Procol will forever be remembered, as once again, we skip the light fandango…
It wasn't just Procol Harum who skipped the light fandango!