Kate Humble
Kate has presented wildlife and science series including Lambing Live, Springwatch and Orbit.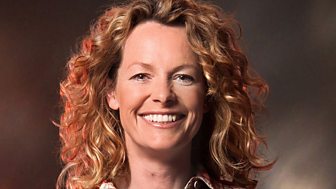 She began her TV career on the Holiday programme in 1997 and since then she's delivered lambs live on air, dived with rare sharks and been upstaged by any number of blue tits. Throughout it all she's shared her enthusiasm for the natural world with millions of viewers.
For Volcano Live , Kate travels to Iceland to uncover the secrets of the Eyjafjallajokull volcano which caused air traffic chaos in 2010. She also ventures 150 metres down into the mouth of a volcano and finds out how one fishing community fought back against a volcano and won.
In her travels she has dived on volcanoes in Indonesia and visited a lava lake in Ethiopia, but this is her first trip to Hawaii's volcanoes.
Kate last worked with Iain Stewart on Rough Science in 2004 when she challenged him, at short notice, to find a piece of gypsum in Death Valley. He didn't. She is still teasing him about it.