Anders
An ambitious young DJ at Broughty FM, Anders sees the local radio station as a stepping stone to greater things.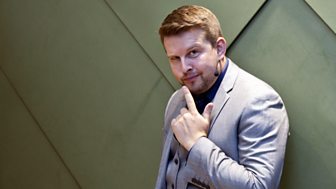 The opening episode sees Bob and Anders go toe to toe in a political debate that leads to a serious, dog-based controversy.
I see a lot of myself in him. And I think he'd ditto that.

Bob's View
Later in the series Anders moderates a dramatic debate between the candidates, trying to keep some sort of control over a combustible evening.
Anders is played by Greg McHugh