Samantha Poling
Sam Poling is an award-winning investigative journalist who began her career in newspapers.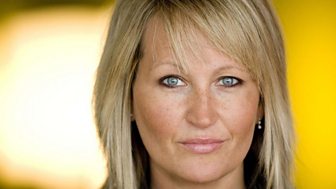 Working her way "through the ranks", as she puts it, Sam made the move from local papers to the national press in 1996, covering stories such as the massacre in Dunblane and reporting from Paris on the death of Diana, Princess of Wales.
In 1998 she joined the BBC and later became Scotland's Health Correspondent.
In 2002, Sam moved on to longer format journalism and made her first film, The Untouchable, an investigation into a senior police officer who had raped and stalked women whose trust he had gained during his career. He was jailed for 12 years for the attacks.
As one of the chief reporters for the BBC investigations series Frontline, Sam went on to make numerous films, including Critical Error which investigated overdoses in radiotherapy treatments for cancer patients in hospitals around the country. The award-winning film prompted changes in the way radiotherapy dosages are delivered.
Sam spent time in Iraq filming with troops for a documentary about the Argyll and Sutherland Highlanders, and travelled round India to examine the call centre industry for a programme about banking.
In 2004, she made the multi-award winning Security Wars in which she went undercover to expose a cartel of gunmen and convicted murderers involved in lucrative national security contracts.
The programme won Sam her first of three BAFTAs and, more importantly, forced politicians to speed up the tightening of security legislation.
In 2008 she made Britain's Protection Racket for Panorama which exposed the newly-created regulatory body, the Security Industry Authority, as being deeply flawed.
Sam went back undercover in 2009 for her Panorama programme Crime Pays, which showed how organised crime was defeating government attempts to claw back its profits.
She secretly filmed one of the country's biggest cocaine traffickers telling her how he laundered his money. Sam was awarded her third BAFTA for the investigation.
In 2010, Sam explored the issue of teacher competence in Panorama's Can I Sack Teacher? The programme found that only 18 UK teachers had been struck off for incompetence in the past 40 years.
In 2011 Sam again went undercover in Northern Ireland to expose fuel laundering gangs, and travelled to Pakistan to expose the surgical instruments industry.
In Panorama's Smoking and the Bandits, Sam examined Britain's fake tobacco industry and spent several months secretly filming some of the country's biggest counterfeit cigarette gangs and discovered record levels of toxins in the products being sold illegally in markets and high-street shops up and down the country.
Sam lives in Scotland and when she is not making programmes, can be found riding her beloved motorbike through the Highlands.