Major Karlis Liepa
Karlis Liepa is an undercover detective with the drugs squad in Riga.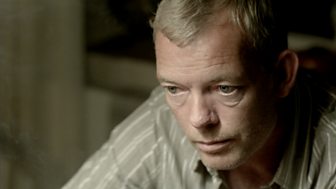 His investigations have led him into an unhealthy and dangerous relationship with the criminal gangs of Eastern Europe. When the dead bodies arrive in Sweden, he realises that things have gone too far, and arrives to try and put things right. This causes more trouble for both him and Wallander.
My theory is that I got myself too much involved…

Major Liepa
He and Kurt recognise in each other shared talents, and shared sadnesses. But Karlis is cleverer than even Wallander could have guessed…
Søren Malling
Danish actor Søren Dyrberg Malling was born 3 February 1964. He plays Deputy Superintendent Jan Meyer in the Danish TV crime thriller The Killing (from Wikipedia).