Tim Samuels
Tim is a documentary filmmaker and television presenter. He is one of the most acclaimed TV journalists, with three Royal Television Society awards in the last six years.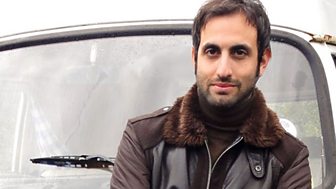 He started out as a BBC news trainee, becoming an investigative correspondent for the flagship Newsnight programme, where he won Young Journalist of the Year, before moving on to documentaries.
In recent series on the BBC, he has formed world-renowned OAP rock band The Zimmers, tackled mass immigration into Britain, and exposed the tentacles of the porn industry.
Tim's first taste of journalism came at 13, when he interviewed Morrissey (for his school newspaper). He has since written columns for The Sunday Times and The Guardian, and features for GQ, Guardian Weekend magazine, The Observer and The Independent. Tim is also a regular voice across BBC radio, presenting documentaries on Radio 4 and Radio 5 Live, and fronting the Men's Hour magazine show.
Tim presented Britain's Biggest Book Prize: A Village Decides for The Culture Show, in which he visited the Scottish village of Comrie in Perthshire and asked the locals to give him their verdict on the 2010 Man Booker Prize shortlist.