Meet Giles Clark
Head of Big Cats, Australia Zoo.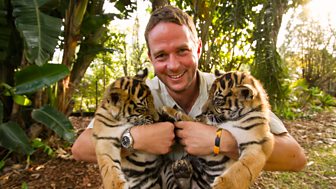 British born Giles has devoted the last 20 years to working with one of nature's ultimate icons, the tiger. As a 16 year-old he volunteered at a wildlife park in his native UK and got his first close-up encounter with a fully grown Bengal tiger, Bruno. "That was it, I was hooked, and it ultimately led to what I do now, this job is a dream come true".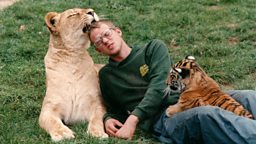 Giles at 17
The tiger is for me the most awe inspiring, magnificent creature that has ever walked the planet

Giles Clark
Giles runs the tiger department at Australia Zoo in Queensland, Australia, and looks after 9 of the world's most endangered big cats: Sumatran tigers. Giles and his team of 8 handlers have a unique approach to animal husbandry; they have a hands-on relationship with their tigers which has been built up over many years. Getting up close and personal to one of nature's greatest predators isn't about thrill-seeking. Giles believes this close contact improves the tigers' quality of life, and they enrich the cats' lives through daily walks and play.
Tigers may have a fearsome reputation, but Giles' cats are like an extended family to him. "They're all different, they all have personalities and characters". His passion for tigers runs through his veins. He says "the tiger is for me the most awe inspiring, magnificent creature that has ever walked the planet". Sadly Sumatran tigers are critically endangered in the wild, and Giles and his team at the zoo have raised more than £1m in the last 10 years to protect them in their native jungles in Sumatra. And his drive to save them from extinction in the wild knows no limits: "I won't stop while there's a breath left in my body, it's that important".
Giles lives with his family near the zoo, so he can be on hand if his cats need him. "I think he was born with stripes" jokes his wife of ten years Kerri. "Living with the 'Tigerman' is a bit different...my house is a zoo!"
This was never more true than when the family welcomed newborn Sumatran cubs Spot and Stripe to live with them for their first four months. Their lives (and home) were turned upside down!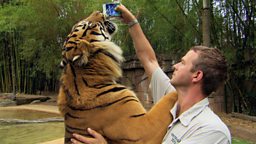 Giles with Juma at Australia Zoo