David Odhiambo answers your questions
He came, he saw, he splodged. After surviving the first three boardroom showdowns of the series, David knew he'd be in serious trouble if he was hauled back in again. Yet many were stunned by his exit in Week 5 following his loveable portrayal of art club mascot Mr Splodge and victory in the previous Afternoon Tea task. We put your questions to David…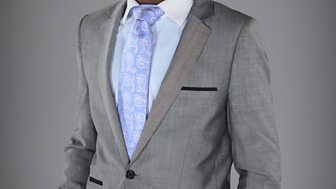 Would you ever use Mr Splodge in your tutoring sessions? (from Emily)
I think that Mr Splodge would make an excellent mascot for tutoring sessions. That level of energy gets kids involved, excited and learning.
What inspired you to go on Young Apprentice? (from Kabir)
I wanted the £25,000 investment fund in order to take my business to the next stage and grow as a company. I also wanted to challenge myself on a national stage.
When you were brought back into the boardroom did you think you were going to be fired? (from Toby)
Surprisingly, I didn't think that I was going to be fired on this task, we all know I didn't like the concept, but I believe that despite that I gave more to the task than any of the other candidates. Moreover, the failure of the task was down to the concept not lack of input or the failure of a team member.
Do you think you deserved to be fired? (from Conor)
No. On the other boardrooms I could see how Lord Sugar could have justified firing me - because I saw what I did wrong. But this week I was like a deer in headlights, I didn't see it coming because I know that the failure of the task was not down to me.
If you were the Project Manager, what would you have done differently to Ashleigh? (from Matthew)
I would have gone with Lucy's concept. I tutor kids and I know what parents look for in a club. The educational element was key; parents will buy into something that is academic and fun rather than messy.
How did you manage to dodge getting fired three times? (from Joe)
Showing how much passion you have when you're in the bottom three does wonders. I think that gave Lord Sugar rational reasons that I should remain in the process. Additionally, I think Lord Sugar saw potential in me that he liked.
Do you feel as though you've gained a lot from being in the boardroom many times? (from Fatima)
I've developed a thicker skin. And I know that people are not always what you think they are - in a business workplace it's eat or be eaten. Plus I got to see Lord Sugar a lot, which is always good, and he got to know me more as a person than he did the other candidates.
Who do you want to win and why? (from Ellie-Rose)
I think that Navdeep is not only the strongest candidate for the process, her skills, personality and work ethic place her on a different level to the other candidates. She was extremely fun to live with. Despite Lord Sugar's comment that she might not be business minded, I know that she is adaptable and suitable for any challenge that is chucked her way. If not me, then I would like her to win.
What do you guys get up to when not filming? (from Afra)
Everything. We would play Just Dance - there was a battle in the house over who was the best dancer. We could play in the games room - the ping pong table was always a favourite. I'd also read books, play 'hide and seek' and jog, and I loved the board games we played. Monopoly was extremely fun and so was Articulate.
Who did you get on the best with in the house and working on the tasks and why? (from James)
I think I got on with Steven and Navdeep simply because I didn't work with them that much. I found that when you work with people you don't tend to be such good pals in the house. But all of us were friends anyway - one big family. Lucy was fun to work with. She has a sharp mind and is willing to take risks.
What have you learnt from Lord Sugar that might help you start you own business one day? (from Vinesh)
I've learnt that failure is not an option; you have to keep fighting for what you want. When you're down you just get up and push forward. I am starting a new business that is focused on key enterprise skills. I'll go round schools and do workshops to enhance the awareness and advantages of enterprising as well as academic skills.
If you have any questions to ask this week's eliminated candidate, tweet them to @bbcapprentice after the show on Thursday night using the hashtag #ApprenticeQnA