Emma Grundy
Having put years of romantic chaos behind her, Emma is making her mark as canapé queen of Ambridge.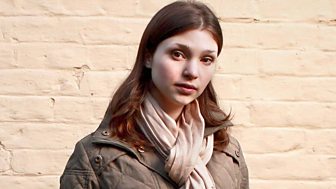 | Fact title | Fact data |
| --- | --- |
| Played by: | Emerald O'Hanrahan |
| Born: | 7 August 1984 |
| Status: | |
| Works at: | The Ambridge Tearoom (also cleaner and upcycler) |
| Lives at: | Grange Farm |
Emma finally settled with Ed Grundy after a brief, unhappy marriage to his brother Will, and a bitter dispute over which brother had fathered her son George (it was Will).
Emma and Ed set up home and in 2011 daughter Keira was born. But beset by money troubles, they were forced to move in with Emma's parents - Susan and Neil.
Emma is close to her mum, sharing a fondness for gossip and cocktails, but living with house-proud Susan caused tensions.
Life with Ed's parents at Grange Farm is more relaxed. Money is still tight even though the Ambridge Tea Service, the catering firm Emma runs with Fallon Rogers, is doing well. Coming up with quirky party themes allows Emma to express her creative flair as well as going some way towards paying the bills. But when you're a Grundy, the wolf is always at the door...
Not now Keira, I'm making mini-quiches!

Emma Grundy
Highs: Marrying Ed, joining the Ambridge Tea Service
Lows: Will and Ed fighting over George, going to a food bank
Likes: Planning menus, family days out
Dislikes: Plucking turkeys; having no money for treats
Key relationships
Ed Grundy (Husband) - She left Will to set up home with his brother Ed
Will Grundy (Former husband)
Helen Archer (Slightly unlikely friend)
Fallon Rogers (Employer) - Emma loves working with Fallon as one half of the Ambridge Tea Service
Poppy Grundy (Niece)
Jake Grundy (Step-nephew)
Mia Grundy (Step-niece)
Emerald on Emma
Emma's definitely one of life's - and love's - victims. She's incredibly pessimistic, and is always half distracted waiting for the next disaster to fall from the sky. You've got to love her though!
Emerald O'Hanrahan
Emerald always knew she wanted to be an actor: "Apparently I announced it to my parents when I was three!".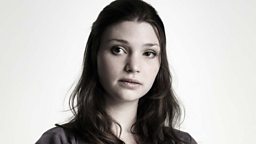 Growing up in Cambridge she had lots of opportunities as a child to get involved in local theatre. Her first role was Susan in The Lion, The Witch and The Wardrobe when she was ten. She went on to play Juliet in a tour of Romeo and Juliet around East Anglia, and to perform on the Cambridge Arts Theatre stage as Miranda in The Tempest before going to drama school.
That was Bristol Old Vic Theatre School, where in her final year she had the chance to play Juliet again. She found this a wonderful challenge and very interesting to look at the character after learning so much over the course. She also took part in lots of other productions over the three years she was there, including Oh! What A Lovely War, Days Of Significance, On The Razzle, and a tour of the west country with Cider With Rosie.
Emerald graduated in July 2009. She was lucky enough to go straight into work with the BBC Radio Drama Company for five months, having won the Carleton Hobbs competition at drama school. She loved her time on the Radio Rep, working on lots of different projects at once - playing a Plantagenet queen one week and a twenty-first century teenager the next!
She'd always harboured a secret hope that working for the BBC would lead to The Archers, having been a lifelong fan, and became increasingly despondent as the months went past without a call from Ambridge. She is thrilled that the call finally came!
Archers highlights
My first day in studio! When I walked into the green room and saw all these actors I thought I didn't know anybody. Then they started to talk and I realised I knew them all! It was very surreal.
they started to talk and I realised I knew them all!

Emerald O'Hanrahan
It was great doing a scene with Barry, who plays Ed. I'd been really worried about him not accepting a new wife. But he was very welcoming and kind and we had really good fun.
Other career highlights
Winning the Carleton Hobbs was a huge highlight for me. I'd always wanted to get into radio drama and it was a fantastic opportunity. When I got the call saying I'd won a contract, I recognised the London number and was shaking so much I hung up instead of answering!
I also really loved playing Hannah in Days Of Significance by Roy Williams at drama school. It was directed by Katie Read, and we worked on it in the days while we were performing Romeo and Juliet at night. It was only shown internally to the staff and some students but it was such a wonderful play; so different from anything I'd tackled before, and the six of us in the cast had the best time working on it.
Favourite
Actor - Meryl Streep
Book - The Time Traveller's Wife by Audrey Niffenegger. It's the most beautifully written book, and practically the only one that's ever made me really sob.
Film - Up. The first ten minutes of that film are the most extraordinary and heartbreaking I've ever seen. The Big Lebowski - just genius.