Oscar 'Oggy' Traynor
Oggy is an Entomologist and a bit of a genius, but his genius is also his "madness".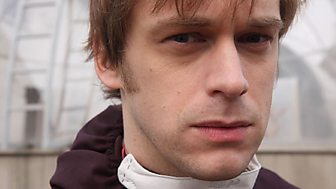 If he wasn't able to work on the Farm as an entomologist, he would be incapable of doing anything else and would probably end up 'rough sleeping' in a doorway.

Oggy never allows himself to think about tomorrow. He is completely consumed by the 'here and now'.
Finlay Roberston
Finlay Roberston graduated from Cambridge University in 1996, and has since gone on to a flourishing acting career. His recent television drama credits include Taggart, Garrow's Law, Dr Who, Hotel Babylon, Persuasion, Hotel Babylon and Life Begins, but he is perhaps most recognisable as Karl Menford in the hilarious BBC Three sitcom, How Not To Live Your Life. Finlay has also proved popular in films such as The Story of F*** and In A Day.