Home Help Grocery Bags
As medicine improves, we are living a lot longer - which creates its own problems.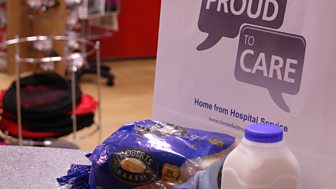 I discovered one of these while working at Chesterfield Royal Hospital.
It has a very large elderly population, and one of the issues they face is when elderly patients return home after having an operation or a brief spell in hospital.
Many will live alone and their families have moved away.
After spending a few days in hospital, they'll return home to out of date food or bare cupboards.
To make matters worse, they aren't mobile enough to get down the shops, risking malnutrition.
To combat this we developed a 'home help grocery bag' for patients to take home after leaving hospital. They are packed with enough food for a few days, to keep them going until they can get down the shops.
Two types of bag are on offer at Chesterfield, but these aren't set in stone.
As hospital caterers, our services don't have to stop with feeding while at hospital

James Martin
If you want, you can devise your own to better tailor to your patients - but the main ethos is for the food to cost no more than it would in the supermarket.
At Chesterfield, the bags were supplied by the on-site mini mart, but they could easily be done by the kitchen or shops.
Working with Chesterfield highlighted an important point - that as hospital caterers, our services don't have to stop with feeding while at hospital. We can still aid patients after they have left.
Red Cross: 'A simple, practical idea'
By Chris Bailey, service manager for health and social care at the British Red Cross.
Returning home from hospital can be daunting

British Red Cross
"We were delighted to work with James and the team at Chesterfield Hospital on their new initiative to offer food packs to patients being discharged from hospital.
"It's a simple and practical idea that complements our on-going work to support people at home in the days and weeks after a stay in hospital.
"Returning home from hospital can be a daunting prospect – the first few hours in particular can be the hardest.
"Being able to do something simple like make a cup of tea or a sandwich can make all the difference in helping someone feel comfortable and settled.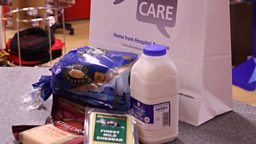 "These simple food bags will help ease the transition hospital to home which, alongside a wider programme of care and support, can help to reduce the likelihood of a patient being readmitted."
Chesterfield Hospital: Making food packs a reality
"It was a pleasure to work with James on our idea for the hospital food packs for elderly patients," says Kim Beevers, head of retail at Chesterfield Royal Hospital.
It is clear that NHS patient care is of great importance to James

Kim Beevers
"James worked with our team here brilliantly, encouraging us to make the food packs a reality, rather than dictating the way we should do it.
"James was courteous and accommodating at all times, respected the fact that this is a busy hospital and was never anything other than friendly and courteous to patients and staff.
"James was very supportive and enthusiastic about the project from the moment he met us.
"It is clear from hearing him speak, what he has done and what he continues to do, that the NHS and the way it cares for its patients is a matter of great importance to him."