John Bright
The middle clerk, John is second in command to Billy.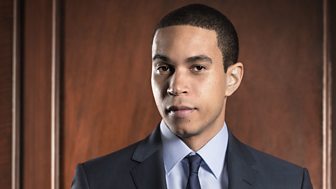 However the two men do not share the same work ethic and while Billy is an old fashioned clerk, John is the future. This often causes friction in the clerks' room. With tensions at boiling point with the arrival of Harriet, John realises he's capable of offering a 3rd way, and begins to relish some of the ducking and diving Billy has tried so hard to instil.
John MacMillan
John MacMillan trained at Webber Douglas Academy of Dramatic Art.
In 2010 he was nominated for the Ian Charleson Award for his roles as Malcolm in the Manchester Royal's Exchange's production of Macbeth and Rosencrantz at the Donmar Warehouse's West End production of Hamlet, starring Jude Law.
As well as starring in many other stage shows, John has also appeared in several film and television productions including Hanna, Heartless, Hustle, Sherlock Holmes and Miranda Unwrapped.