Rachel Allen and Theo Randall
Theo Randall and Rachel Allen hit the high road on their culinary crusade, travelling from the West of Scotland all the way to Shropshire, cooking and entering their dishes in country shows on the Isle of Bute, Aberfeldy, Keith, Kington and Ludlow.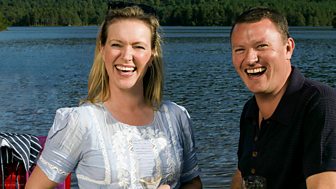 Rachel Allen trained at the internationally reputed Ballymaloe Cookery School in Ireland, where she still teaches. Her philosophy on food is that good ingredients simply prepared will give great results.
Rachel is a frequent guest on Saturday Kitchen and is one of the lead presenters on Market Kitchen. She has also contributed to BBC Good Food magazine and AWT At Home magazine.
Theo Randall opened his first restaurant, Theo Randall at The InterContinental to huge critical acclaim in 2006 and hasn't looked back since.
He was a firm favourite on Market Kitchen and has taken part in many other shows including Celebrity MasterChef, Countryfile, Beat the Chef, Lorraine, Something for the Weekend and Food Poker.
Theo is much sought-after as a consultant and when not busy at the restaurant, spends his time in Italy and France researching new dishes and enjoying time with his family.