Stevie Burns
Cheeky, cocky and charming, former junkie Stevie found a new life in Shieldinch.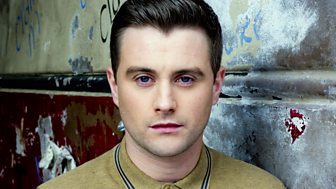 As a teenager Stevie fell in with a bad crowd and got involved in gangs, alcohol and drugs. After lying, cheating and stealing from his family for years they grew tired of him.
Raymond was the first person in Shieldinch to realise he wasn't a bad lad. A job at the Tall Ship followed and a bond between the pair grew.
His head was turned by schoolgirl Nicole Brodie and, despite their age gap, they fell in love - much to the disapproval of her well-to-do family. Their relationship finally hit the skids after Stevie grew tired of Nicole's childish behaviour.
An attraction grew between Stevie and his married colleague, Stella. The pair tried to fight their feelings but passion took over. What started as an affair became love, leaving Stella's husband, Bob, devastated.
Stevie and Stella's love has grown and the couple were thrilled to discover they were going to have a baby. However, their happiness was short-lived when Stella miscarried.
But while Stevie adores Stella, he couldn't tolerate her younger brother, Mark. There's no love lost between the pair and their relationship soured further when, believing Mark was responsible for Stella's miscarriage, Stevie contemplated letting Mark die from a drugs OD. He didn't but the fact he even considered, haunted Stevie and he confessed all to a shocked Stella.
Loyal and trustworthy, Stevie stood by Raymond after he confessed to killing Sean Kennedy - refusing to throw him to the wolves even when Sean's father, Billy, took him hostage and beat him up for information.
No matter how hard he tries, somehow Stevie attracts trouble…
Paul James Corrigan
Paul plays Stevie Burns in River City.
Joined River City - 2011
From – Viewpark, Lanarkshire
Star Sign - Sagittarius
Loves - Chocolate
Loathes – Running out of chocolate!
TV Treat – The Sopranos, Dog The Bounty Hunter, Friends