Charles 'Don' Burnell
Winner of an Olympic gold medal in 1908, long standing member of Leander Club and proud father of Dickie, Don Burnell is concerned his son may be sacrificing gentlemanly standards and the etiquette of sportsmanship in order to win the gold.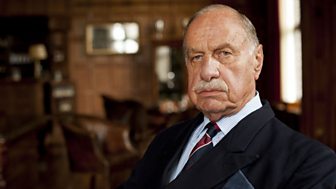 Dickie is constantly frustrated by his father's dislike of competitiveness and he's forced to recognise that if he's going to win the gold medal, it will have to be done his way, not Don's.
Geoffrey Palmer
Geoffrey is a familiar face on British television, but worked as an accountant and served as a corporal in the Royal Marines before he joined the local amateur dramatics. He starred opposite good friend Judi Dench for over a decade in As Time Goes By and is the only actor to appear in the first three of the British Film Institute's 100 Greatest British Television Programmes: Fawlty Towers (1975), The Wednesday Play: Cathy Come Home (1966) and Doctor Who (1963).
In 2005 he was awarded an O.B.E in the Queen's New Years Honours List for his services to Drama.