Christopher Carter
Ambridge's resident farrier has turned many a local head.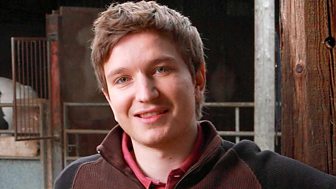 | Fact title | Fact data |
| --- | --- |
| Played by: | Will Sanderson-Thwaite |
| Born: | 22 June 1988 |
| Status: | |
| Occupation: | Farrier |
| Lives at: | Home Farm (in a former holiday cottage which Brian passed on to Alice) |
...as he's developed into a good looking and muscular young man.
He tested the water with a variety of pretty girls, from snooty upper class totty Venetia Streatfield to the more earthy Stacey from Meadow Rise, who even Jazzer said he shouldn't touch with a barge pole.
He ended up back at the posh end, with Alice Carter, to his parents' delight and her parents' bemusement - especially when they returned from the US blithely announcing they were married in Las Vegas.
But the Aldridges had to respect his determination to buy the farriery business when his boss Ronnie retired. 
I've got everything I want just here.

Christopher Carter
Likes - Cricket, a good laugh
Dislikes - Some of what Alice got up to while at university in Southampton
Highs - Qualifying as a fully fledged farrier in 2008
Lows - His brush with the appalling Venetia, his awful accident in 2013
Will Sanderson-Thwaite
Will joined The Archers aged 15 in 2004 after a producer approached his GCSE drama teacher at his secondary school in Gloucestershire.
Will trained with the Bristol Old Vic youth theatre and the National Youth Theatre. Appearances included 1984 and Romeo and Juliet.
Now based in London, Will is also a musician. He studied at the British Academy of New Music alongside his band Gecko.
Archers highlights
When Chris got rid of his "posh" girlfriend Venetia I really felt for him. She had insulted his mum. While Chris would be the first to complain about Susan, when somebody else did the same he got very protective of her. Bless him.
I also enjoyed the shenanigans at the Bestival music festival, although I would have preferred it if it was on location!
Other career highlights
With the National Youth Theatre I performed at Trafalgar Square in front of about 10,000 people. We felt like rock stars and I thought to myself "I could get used to this!"
Will on Chris
I really like him. But I guess I'm biased! He has to put up with a lot, especially from his mum, but he seems to take it in his stride. He loves horses too. I don't really share this with him!
Actor - It feels a bit obvious but I'm still a massive fan of Johnny Depp, I especially like when he works with my favourite director Terry Gilliam.
Book - Things the Grandchildren Should Know by Mark Oliver Everett. This is the autobiography of the frontman of the band The Eels. He has led a ridiculously tragic life. Both parents died, his sister commited suicide, his cousin was a flight attendant on the plane that hit the Pentagon. But what is amazing about the book is how he uses music to bring something positive out of these impossible situations.
Film - Very difficult! Maybe Die Hard. It's pure entertainment and Bruce Willis is about as cool as you can get in it. Plus it features Run DMC doing a Christmas song. Result!