Russia
Representing Russia are the Tolmachevy Sisters with Shine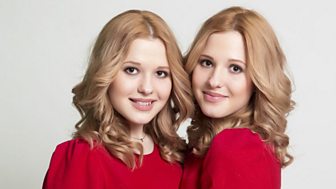 Eurovision fans might remember the 17-year old Tolmachevy Sisters from back in 2006 when the girls, at the age of nine, won the Junior Eurovision Song Contest in Bucharest, Romania.
We would like to repeat the success we had in 2006

Tolmachevy Twins
Anastasia and Maria started singing from an early age, encouraged by their music teacher mother. This was documented in 2007 when Russia 1 Channel broadcast a film about their success in the junior version of the Song Contest.
Then in the same year, the twins appeared in the New Year's Eve television musical Kingdom Of Crooked Mirrors where they sang together with Alla Pugacheva, Russia's 1997 Eurovision entrant. The sisters later released their album Polovinki (The Halves).
The Tolmachevy Sisters also took part in the opening act of the first semi-Final of the 2009 Eurovision Song Contest. This year however, they will be representing their country.